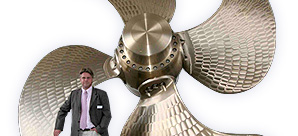 PCP - Piening Controllable Propeller
Designed to ensure sustainability for todays and future regulations.
4 or 5 bladed controllable pitch propellers
hydraulic pitch control using

ordinary water

very good operational availability
very low operational cost
high efficiency with low noise and vibration
hydrodynamically optimized design
environment friendly
non toxic hydraulic fluid (water)
conventional oil operated designs also available
in accordance with major classification societies
exploded views with PCP 5 - five blades mounted on hub
Robust and proven mechanical design. Innovative bearing technology for long life and easy maintenance.
For more information and impressions please go to the flyer in the news.